"Two legends collide: Tony Bennett meets Sanjaya." From Ryan Seacrest's mouth on Tuesday's show to God's ear, apparently, because another week has gone by where Sanjidol isn't even in the bottom three. I don't get it, and it's making me really hate
Howard Stern
. At first, I thought he was garnering the magicially appearing votes from the tween contingent, like Kevin Covais/Chicken Little from the previous season, compounded with the fact that he's the first Indian American to be a finalist on the show. Now? Now I think I just hate Howard Stern. And, as usual, I agree with Simon- if Sanjaya wins, I'm quitting the show too. (Here's something scary- on an AOL poll I checked this morning, Sanjidol was ranked #1. No, that was not a typo.) Sanjaya's a nice kid... a nice, shaggy haired, soft-spoken, hula-dancing kid, but an American Idol? Kelly Clarkson would eat him for breakfast. Hell, Clay Aiken would eat him for breakfast. Look, I just gave myself the option to segue into a gay joke, and I'm not taking my own bait! I'd much rather talk about Haley Scarnato's legs. And I will, I promise.
Tony Bennett coached the Idols tonight, and it seemed like most of his direction involved encouraging the contestants to perform the songs more like he did. I'm not about to argue with Tony Bennett, but he seemed to discourage every performer from messing with the classics. After seeing what some contestants did on British Invasion week, that probably wasn't a bad idea. On the topic of bad ideas... um, Mr. Bennett's yellow blazer. He looked like he should be hosting a cable-access game show.
Blake was the first to perform last night, which kind of ruined the whole "I can't wait to see what Blake's going to do!" thing, but that's ok because it wasn't very good anyway. He sang "Mack The Knife" which will always remind me of the big McDonalds Moonhead guy singing about a Big Mac. Sigh. The judges were happy enough- actually, a lot more positive than I was. I don't think Blake has to worry about going home for the next few weeks, but I've come to expect a lot more out of him. Blake, you've let me down. You're going to have to try super hard to find a wiggity-wigga-way back into my heart.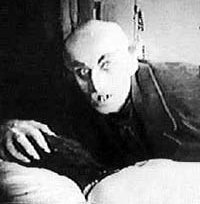 Phil was up next, and all I could think about was how much he looks like Nosferatu. And the guy from the movie Powder. It's just creepy, I don't care what he sounds like. He sang "Night and Day", which the judges thought was disconnected, lacking passion, and gloomy. (I would expect nothing more from a vampire.)
Next up was Melinda. She's so good, even Simon can't think of anything negative to say, much to his (and my) chagrin. Really, she's awesome. I'm not sure if I still believe that suprised "Who, me?" look she gets on her face every time she's complimented, but she does seem humble. I think her only problem in this competition is that she seems like she's in a completely different league from the rest of the contenders/contestants. First of all, she seems much older than everyone, and not exactly the same level of "fresh" and "hip" that we get from Jordin, Blake, and Chris. I think she will have a fabulous recording career in front of her, I'm just not sure she is the right one to win the competition. She does have the same last name as my grandparents. I will investigate the liklihood of us being relatives.
Chris Richardson! It's my completely unprofessional but strong opinion that he gave the best performance of the night, as far as modernizing a classic goes. He sang the hell out of "Don't Get Around Much Anymore", and although it looked like he was dressing up like Justin Timberlake for Halloween, it really worked. This week (
and
last!) he gave the performance I was expecting from Blake, which means I am now a huge Chris Richardson fan. You should be too, ok?
Jordin Sparks was up next. This girl is adorable! Incredibly, she's the same age as Sanjaya, but a million times the better performer. Ryan Seacrest has predicted that she'll win the comptetion, and although she's not
my
choice for number one, I would love to see her in the Top 3, and wouldn't think it crazy if she took the whole thing. Tuesday night was a little boring for me, though.
Who knew this would be the week Gina Glocksen went home? I thought she sounded pretty good. Then again, what do I know. It's not like I was voting for her anyway. For the record, though, I did anticipate her staying around much longer than Phil and Haley, and in a perfect world, outlasting Sanjaya. Poor Gina looked upset at the results, and who could blame her. It's one thing to know it's your time to go, and quite another thing when you're standing next to an oiled Barbie and told that she got more votes than you.
Following Gina that night was the man, the myth, the legend, the Sanj. I've been trying to watch my language lately, but this really deserves a "WHAT THE FUCK?" I'll admit that I loved Sanjaya in the very, very, very beginning, but once Hollywood week was over, I thought it was time for the cute little sentimental boy to go home. Why is he still here? I sing with more enthusiasm in the shower. It's gotta be all the hype from stupid stupid VoteForTheWorst.com. If he sticks around longer than some of the really and phenomenally talented people, I think he's going to get assasinated. Not by me, mind you, but it seems most of America is pretty riled up about this. Once Phil, Haley, and Sanjaya leave, the show is going to get really interesting.
I would gladly keep Sanjaya around for another week if we could all please, please just send Haley home. If I have to watch her wiggle all over the stage with her plunging necklines, coy expressions and overly-greased legs, I'm going to scream. I roll my eyes so many times durning her performances that I have blurry vision for the rest of the night. Her voice? It's not horrible. Her body? Wow. But Haley needs to stick to the beauty pageant circuit. Maybe the auditions for that Dallas Cowboy Cheerleaders reality show were right next door to the American Idol auditions, and the poor thing got confused? I know she's nice to look at, but think of it this way: the faster she gets kicked off, the faster she'll be posing naked somewhere.
Last up was LaKisha, who always seems to end her songs with a mean ole pout. The girl's got some massively large... pipes! I don't really like her as much as Melinda and Jordin, and definitly not as much as Chris R. and Blake. She seems to be loved by the judges and has stayed out of the bottom groups so far, so I'm assuming she'll last for another few weeks as well. Look, I don't really care, I'm just hoping to get rid of Phil, Haley and Sanjaya so the real competition can commence!
And Paula? Paula. Please, please please fire your stylist. You only look good to you, and that's because of the drugs. And maybe you could do something other than the same exact ponytail you've been sporting for the last few weeks? You paid a lot of money for those extensions, you should really be showing them off.
I just realized how long this post is. I am so sorry. No judgement, ok? ;)